Meet The Builders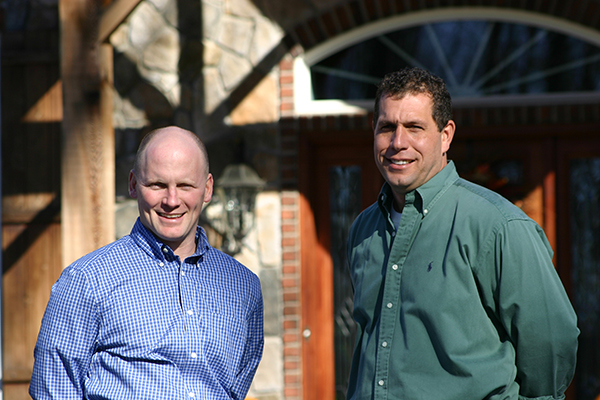 John Goetz & Christopher Sollecito
John Goetz & Christopher Sollecito
Owners of Mid-Hudson Development Corp., John and Chris, have been in the building business for more than 45 years combined, and have dedicated themselves to building a customer-oriented custom home building business.
Every custom home is a collaboration between their customer and the building company. Through open and straightforward communication, an excellent rapport is established which is essential in the selection of a custom home builder. They encourage your involvement in the home building process because only you know what's necessary to fit your family's needs. They work hand-in-hand developing a professional yet personal relationship with each one of our customers. Because of their tight-knit company, you meet directly with the owners for a one-on-one consultation to ensure that you receive the personal attention needed to build your dream home. They will continue to oversee the progress of your home on-site throughout the entire building process.
At Mid-Hudson Development Corp., they strive to build a home that will reflect your values, meet the unique needs of your family, and give you peace of mind that you have chosen a builder that is second to none in the home building industry. Since your home is an extension of your personality, they realize the need to incorporate your lifestyle into the design of the home. At Mid- Hudson Development Corp., they strive for excellence in the homes they build, concentrating less on speed and volume, and more on detail and quality. MHDC invites you to experience all the services they offer and discover the difference of living in a Mid-Hudson Development Corp.
Buying a home was nothing new to me as I already had purchased 2 homes over the past 10 years in Westchester. But what was new to me, was building a home from the ground up. Something that I thought long and hard about. I drove for about 2 years straight up to Dutchess and Putnam County meeting with all the home builders. Looking at different land plots and going through difference scenarios with big national companies like Toll Brothers, the modular home builders and the so called local builders. But what I liked most about John and Chris – besides the fact that 2 best friends of 40 years were doing what they loved for a living – was that from day 1…they treated me like a friend.  I was nervous as all hell, wondering how I would even begin to imagine my vision and the reality it could become. John sat down with me and went over dozens of home plans and designs. He introduced me to the architect and we sat down to allow me to make any changes.  And boy did I. From half a dozen oversized and arched windows, larger rooms, different layouts and something as small as moving a wall 6 inches. Something a big builder would never allow. I must have drove up every other day…..and put thousands of miles on my car during the building process to look at in amazement the shape that what I would call a home one day would be. I would visit the framers and bring them coffee and donuts as they were working hard in February during the brutal winter. I became friends who I see in town, the woman from the plumbing supply place that John and Chris put their trust in to help supply all the fixtures in the home. She dealt with all my crazy calls, emails and last minute changes like a true professional. John and Chris try to utilize the best vendors and supply partners that are easy to deal with. We must have walked through with the electrician 5x before deciding on all our decisions and lighting/internet/tv placements. The plumber helped us imagine how our tub would look situated in the master bathroom. The HVAC guy and I laughed about the amount of questions I would ask about the various types of heating/cooling options that Mid-Hudson offers. Geothermal, Propane, Oil, Natural Gas, what's a well? What's on demand hot water? I mean literally I had questions for days. BUT, I would call and text John at any point of the day or weekend…and he would answer, honestly. The big builders don't allow you to visit, make radical changes,  or talk to the actual sub's doing the work. Anything you could want, Mid Hudson would allow. I bought tons of custom light fixtures that required extra work, I wanted internet ran to every room for crazy projects I envisioned, I wanted a custom sized deck, I wanted custom built ins, I want I want I want…and you know what? I got everything I asked for. And as I met with John and Chris that day at the closing, I had already felt like I was living in the home and they were friends waiting to stop by. I don't know, but it's just something different with these guys. But if I had to do it all over again, I wouldn't change a thing.
– Jason Coschigano | Hopewell Junction, NY